DAO SHENG METHODIST DRAMA TROUPE
Brief History of the DSMDP
道声剧团简史
【道声剧团】的正式简称是【卫理道声剧团】,全名为【马来西亚卫理公会砂拉越华人年议会道声福音剧团】。其组织隶属马来西亚卫理公会砂拉越华人年议会布道部。【道声剧团】的宗旨是:藉着戏剧广传福音,荣神益人,并要培育戏剧人才,提高戏剧水准。
砂拉越卫理公会的戏剧传福音的事工,亦早有之,但多是无师自通,更没有正式的戏剧组织。殆至1985年,时任华伊两年会联合的视听资料部主席兼卫理报主编的许世韬先生,因参与【世界基督教传播协会】的关系,认识了同为会员的当年【台湾救世传播协会】总干事洪善群先生。因看到戏剧传福音的工作的重要,许先生便有意请他们协助推展我会的戏剧事工。
在许世韬的推动与策划下,于1986年在诗巫举办了一项空前的戏剧训练会。邀请洪善群以及菲律宾的上官贤丽小姐前来负责教导。训练会后,六十多位学员咸认有必要组织起来,有计划地进行戏剧传福音的工作。于是便成立了剧团,公推许世韬为第一届团长。更于1987年获得年会批准,正式成立。
【道声剧团】成立以来,一直在致力于福音戏剧的推广工作。团员们都尽量每年都参与戏剧演出。道声的第一部公开演出是【流泪谷】,最吸引人的是【富雅各传】。其他的演出也都得到好评。教会渐渐开始重视这项戏剧传福音的事工。剧团也非常重视培训新秀事工,曾举办过多次戏剧训练班,培育了不少对戏剧有负担的人才,得到教会当局的重视。
为要更有效推动戏剧事工,2008年【道声剧团】从发源地诗巫扩展到古晋,成立了剧团分团。继之,美里,民都鲁,泗里街,加帛和民丹莪也先后成立分团。2011年联合成立了【年会道声剧团】。从此有了完整而又系统的组织。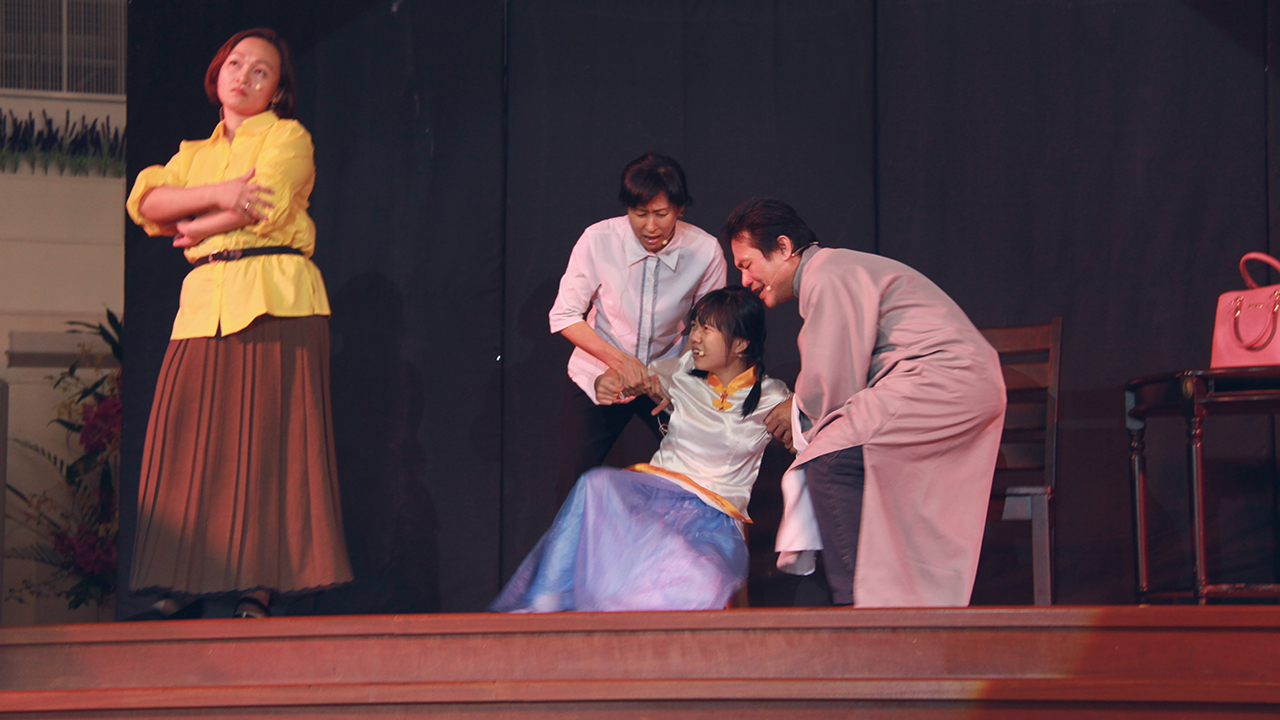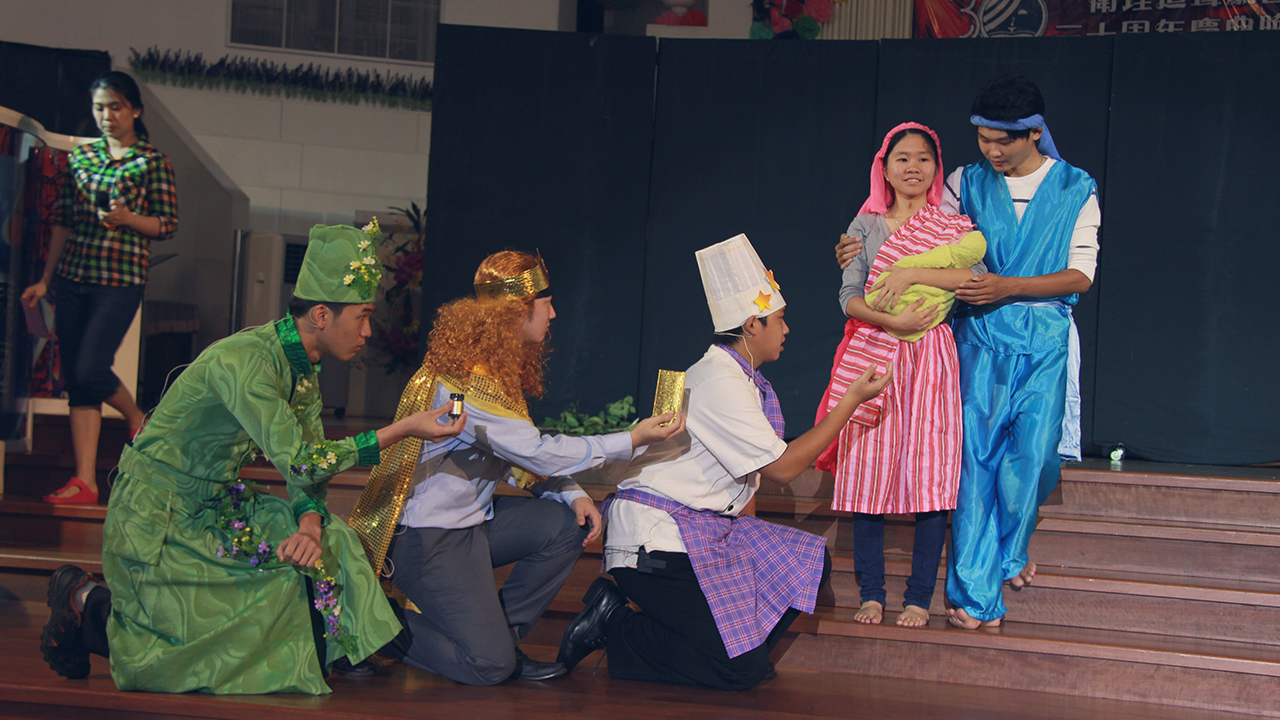 BRIEF HISTORY OF THE DSMDP
The official abbreviation of Dao Sheng Methodist Drama Troupe is Sarawak Chinese Annual Conference Dao Sheng Methodist Drama Troupe. Its organization is under Sarawak Chinese Annual Conference Board of Evangelism. The purpose of Dao Sheng Methodist Drama Troupe is to spread the gospel through drama, to honor God and benefit others, and to cultivate talents in drama and raise the level of drama.
The Sarawak Methodist Church's drama evangelism ministry has existed for a long time, but most of actors are self-taught, and there is no formal drama organization yet. In year 1985, Mr. Hii Shi Tao, who was the chairman of Board of Audiovisual Information under Chinese and Iban Association for two years and the editor-in-chief of the Methodist Messages participatated in the World Christian Communication Association that year and he got acquainted with one of the member, Taiwan Overseas Radio & Television Inc secretary general, Mr. Hong Shan Qun. He  was also seeing the importance of drama evangelism ministry in Sarawak so Mr. Hii intentionally asked them to assist in promote drama evangelism ministry in Sarawak.
Under the promotion and planning of Mr. Hii Shi Tao, an unprecedented drama training session was held in Sibu in 1986. He invited Hong Shan Gun and Miss Shang Guan Xian Li from the Philippines to come and teach the drama lessons. After the drama training session, more than 60 students agreed that it was necessary to organize and carry out drama evangelism in a planned way. So, drama troupe in Sibu was established, and Hii Shi Tao was publicly promoted as the first director of Sibu drama troupe. It was formally established in 1987 and was approved by Sarawak Chinese Annual Conference.
Since its establishment, it has been committed to promote drama evangelism ministry. The drama troupe members try their best to participate in drama performances every year. Dao Sheng's very first public performance was [The Valley of Tears], and the most attractive was [The Story of James Hoover]. Other performances every year have also been well received. The church gradually began to attach importance to this drama evangelism ministry. The drama troupe also attaches great importance to the training of new drama troupe members. It has held a number of drama training courses and cultivated many talents who are burdened with drama in Sarawak, which has been valued by churches.
In order to promote the drama ministry more effectively, Dao Sheng Drama Troupe based in Sibu, expanded to Kuching in year 2008 and established sub-drama troupe. Subsequently, Miri, Bintulu, Sarikei, Kapit and Bintangor also established sub-drama troupes. In year 2011, Sarawak Chinese Annual Conference Dao Sheng Methodist Drama Troupe was jointly established. Since then, there has been a complete and systematic organization.
Sucessively Head of Dao Sheng Methodist Drama Troupe